Beardvertising
Baarden zijn weer helemaal hip. Eerder deze week maakte het bedrijf Cornettt Integrated Marketing Solutions bekend via de website Beardvertising dat er geld te verdienen is met je baard. Door er simpelweg een advertentie in te plakken.
"Do people stare at its awesomeness? Of course they do. Do you wanna get paid for having an epic beard? Of course you do. Join the world's first Beardvertising network. Get paid. It's simple – turn your beard into a business. Just like "Duck Dynasty". Hang a BeardBoard (Patent Pending) in your beard. Sit back and get paid up to $5* per day. Join the network today. Everyone stares at an epic beard. Why not have these people also stare at your brand. Real Native Advertising."
Als je kat maar snor zit 
"Cat bearding (verb): To compose a photo in which the head of a cat is positioned in front of a person's nose and mouth so that the image resembles a human with a luxuriant beard."
Een week geleden publiceerde de maker van de Tumblr blog CaptainAwesomeSauce een bericht waarin hij duidelijk maakte wat hij (of zij) deed wanneer hij ziek was. "What do I do when I'm sick? I google "cat beards" on google images and here were some of the best." Bij het bericht postte hij vijf foto's van mensen die een kattekop voor hun gezicht hielden.  Inmiddels hebben meer dan 91.000 mensen de publicatie gezien. Na planking en de Harlem Shake is een nieuwe internetmeme hiermee geboren. Op Buzzfeed worden inmiddels de 25 meest epische foto's getoond. De website cat-beard geeft een overzicht van alle kattenbaard die op het internet rondwaren.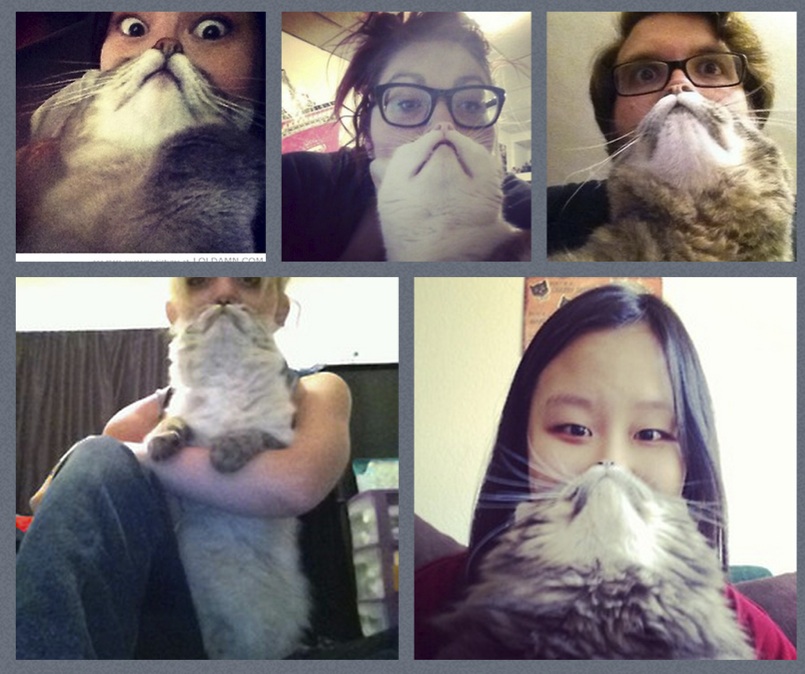 Dog bearding
Uiteraard laten de kattenhaters het hier niet bij zitten. Inmiddels is er een tegenreactie gekomen onder de bezielende begeleiding van komiek Vikki Stone. Via een tweet liet ze weten dat een baard gemaakt van een kat te moeilijk was, dus pakte ze haar hond om een soortgelijk effect te bewerkstelligen. "I found the cat beard too hard, so, ladies & gentlemen, I give you….. THE DOG BEARD:"
Een ware strijd lijkt zich nu te ontspinnen tussen katten- en hondenliefhebbers. "Cat beards, what the internet was invented for, the sad moment when you have a dog." is te lezen in een artikel van Metro. Voor alsnog zijn het de katten die winnen. Na de lolcats van een aantal jaren terug is nu het tijdperk van cat bearding aangebroken. Cats rule the internet once again!